A U S Z E I T D E R D E M O K R A T I E
Ein Kunstprojekt, Herbst 1993


Diskussion auf der Art Cologne
v.l.n.r. Felix Droese, Dr. Werner Peters,
Klaus Staeck, Karlheinz Schmid

Dieses Projekt fand im Herbst 1993 als Folge der zunehmenden faschistischen Tendenzen in Deutschland nach der Wiedervereinigung 1989 statt. Insgesamt 25 Personen ausländischer und deutscher Herkunft wurden in den Jahren 1992 und 1993 von Faschisten getötet. Fotos dieser Opfer sind auf dem Katalogcover des Projekts abgebildet, welches hier auf der vorherigen Seite zu sehen ist.

Die faschistischen Tendenzen in Deutschland und die Bereitschaft zur Gewalt haben in der letzten Zeit eine dramatische Zuspitzung erfahren.

Aus dieser brisanten politischen Situation heraus entstand die Idee zum Kunstprojekt "Auszeit der Demokratie". Die Künstler und Künstlerinnen gehen der Frage nach, ob die Demokratie vorübergehend außer Kraft gesetzt ist oder aber dem Ende zugeht, und möchten letztendlich gemeinsam mit engagierten Mitgliedern aus Wirtschaft und öffentlichem Leben ein Zeichen im Kampf für den Erhalt der demokratischen Rechte und kulturellen Werte setzen.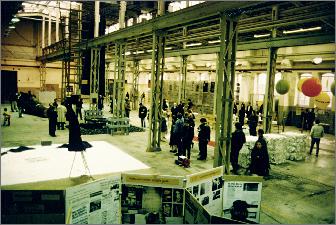 Blick in die Ausstellungshalle

This project took place in autumn 93 as the result of the rise of fascism in Germany after the reunification in 1989. A total of 25 persons of foreign and German origin was killed by fascists in the years 1992 and 1993. Photos of some of these victims are shown on the catalogue cover of this project, here shown on the previous page.

The fascist tendencies in Germany and the readiness to use violence experience a dramatic aggravation.

This explosive political situation originated the concept for the art project "Timeout in Democracy".

The artists place the question whether democracy is temporarily out of order or approaching its end and finally they want to work together with the economy and the public to set signals in the battle to maintain the democratic rights and cultural values.