Member of Resartis and IntraAsia Network
New Book
Art-Led Participative Processes: Dialogue & Subjectivity within Performances in the Everyday
Recent Projects:
OPEN ACADEMY - Mongolia, Myanmar (Burma) & Vietnam
Reading Self + Reading Others, Ireland
Others:
Bureau for Cultural Interconnectivity
Collaborative and Participatory Practice
Selected Articles written by jay koh and Chu Yuan
Selected Portfolio from Chu Yuan & Jay Koh, pdf 2.8MB
More Notes on Methodology on Collaborative & Participative Practice
article from Grant Kester - The Art of Listening (and of Being Heard): Jay Koh's Discursive Networks

E-mail contact: ifima7@gmail.com
Mail Add: 663, SK 4/4, Seri Kembangan, near Kuala Lumpur, 43300 Selangor, Malaysia

Founding Director :Jay Koh, Dr
Co-Director :Chu Yuan, Dr.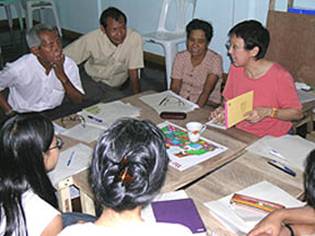 Open Academy: Writing Big Books for Children workshop by Singaporean novelist Suchen Christine Lim, Sept 2003,
in NICA, Yangon, Myanmar

iFIMA is an international cultural organization committed to:

(i) promoting art as a cultural activity in which the creative process contributes towards people's developmental
needs on an open learning, interdisciplinary and participative platform such as the Open Academy
(ii) forging collaborations, networking and resource-sharing across disciplines, and across cultures

(iii) promoting discourse across disciplines and sectors so as to build engagement amongst co-participating
communities in arts and cultural activities
(iv) curating and organizing art and cultural events which respond to specific cultural contexts

(v) devising and facilitating context specific training and resource-building programmes with aim of promoting
self-management and professionalism of arts communities

iFIMA's activities

Our activities are art-based and diverse, and designed to address specific contexts, cultural and developmental needs.
As such, our projects entail study of each site and cultural context and identifying and organizing the appropriate activities.
These activities ranges from curating and organising exhibitions, seminars, workshops; networking, resource-sharing and
capacity-building, consultancy, management and administrative services, human resource training, advocacy, writing,
publishing, research, to other necessary activities. We source and raise funds for suitable personnel to be appointed for
specific projects. We
channel resources to those who are lacking and in need of assistance.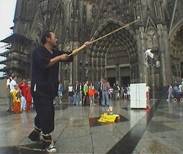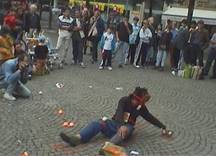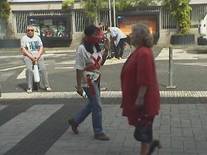 Thai artists Vasan Sitthiket, Paisan Phangblienchang & Jittima Pholsewek performing in The Other Critic, 1997, Cologne, Germany.

Beginnings

i
FIMA evolved from a non-profit art space arting, which was founded by Jay Koh, and was located at Bruesseler Strasse 29
in Cologne from 1992-1999.arting promoted contemporary art, and worked in a interdisciplinary manner with other art and
cultural foundations and organizations. It has shown works of artists from over 20 countries, from Eritrea to Korea,
Kurdistan to India, USA and the U.K. and was supported by the Art Council of Cologne. iFIMA developed as an
international platform to coordinate arting's then expanding cross-cultural activities.

iFIMA's work in Asia

From 1996 to 2003, iFIMA has been working with artists, groups and individuals in Malaysia, Thailand, Hong Kong, China,
Cambodia, The Philippines, Bangladesh and more actively in Myanmar (Burma) and Singapore, in building up relationships
for sustained engagement which we believes are necessary for effective cross-cultural collaboration, understanding
and exchange, in arts and cultural activities.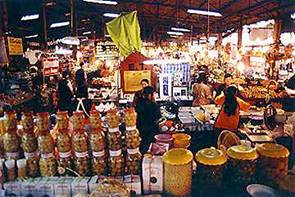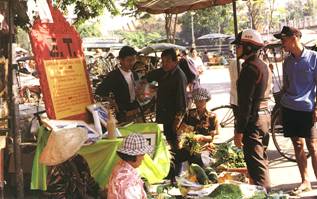 Exchanging Thought - ET, by Jay Koh, interactive installation and performance in various wet marketplaces, 1995/6, ChiangMai, Thailand

Some of iFIMA's past and present projects:

Among some of the projects carried out by IFIMA are:

E.T. (Exchanging Thoughts), Chiangmai, Thailand, 1995/96
The Other Critique, Cologne, Munich and Kassel, 1997 - 1998
The OtherX/change, Goethe Institut and Artist Store House, Beijing-Cologne, 1999 - 2000
Oriental Curtain - Contemporary modern art of Myanmar - Inya Artist Group, Galerie ON, Cologne, 1999 and Varkaus Museum, middle Finland, 2001
Visual Culture: Tourist Industry - Contemporary art from Thailand, Forum Stadtpark, Graz, 2000
Translation, Displacement, Actualisation. Gallery 68elf. Cologne, Germany, 2000
International Symposium on Cultural Exchange: Crossing Cultures: Issues on Engaged Art, Museum on Site and Shanghai Art Space, Hong Kong, 2000
M-Spaces: Crossover or Assimilation. Nokia-Singapore Art 2001. Singapore, Jan 2001.
Investigating Public Engaged Art, Singapore, The Substation, Singapore, Feb – July 2001
Seminar on Engaged Art in Public Spaces, Laznia Centre for Contemporary Art, Danzig, Poland, Sept 2001
International Symposium on Public Engaged Art, Singapore, March 2002, The Substation, Singapore
Collaboration, Networking and Resource-sharing: Myanmar, Yangon, Myanmar, 2002
City Transformers: Art and Architecture in the City, symposium and project, Gdansk, Poland, 2002.
"Critiquing Critical Art", a symposium of Locus: Interventions in Art Practice, Manila, The Philippines, 2002
Comparative Contemporaries, An international symposium on art writings, Oct 2003 + Oct. 2006, The Substation, Singapore
NICA (Networking & Initiatives for Culture & the Arts), Myanmar/ Burma, 2003 - present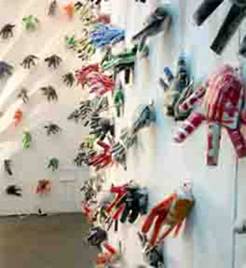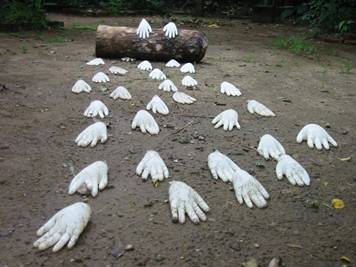 Open Academy's workshop series: Installation by Myanmar artist Nyo Win Maung, in Installation Art Workshop series I at NICA, 2003, Yangon, Myanmar
iFIMA's platform: Open Academy from 2003 onwards in Mongolia, Myanmar (Burma) and Vietnam
The Open Academy programme was conceived by Jay Koh and Chu Chu Yuan as a learning programme that is responsive
to context and cultural specific learners' needs. OA is organised especially to supplement under-developed areas of education,
due to lack of resources, inflexible infrastructures or inaccessibility of knowledge.
OA corresponds to Koh and Chu's philosophy of creating projects that are responsive to different cultural and contextual needs
and conditions, and mobilising resources to improve cultural connectivity.
For more details see Open Academy's page
with information on OA in Myanmar (Burma), Vietnam (Hanoi and Hue ) and Mongolia (Ulaanbaatar)

Some Facets of our Work

1. Engaged Art as a form of Interdisciplinary and Participative Practice

Engagement takes place in a spectrum and is implicit in all forms of art-making, in varying degrees. 'Engaged art activities',
referring to art activities which engage with social issues, have been on the rise in response to social and political issues
challenging contemporary cultures. Within engaged art practices, iFIMA feels a need for a more expanded, extended and
active form of engagement; for art to work in collaboration with other disciplines, and with societal structures, to influence
social change. We believe that for contemporary art to play an effective role as a catalyst for change, it has to go beyond
display (show), spectacle, and critique. It needs to situate itself as part of a wider network of practices, and be willing to
engage in dialogue with other practices, disciplines, publics and structures.

Projects:

City Transformers and "Engaged Art and Architecture of the City" conference, Danzig, Poland, August – Sept 2002. Public
art project and conference on incorporating art and cultural life into city planning. Organised by Lasnia Centre for
Contemporary Art, Danzig, Poland, co-organised by iFIMA
Voicing the City, Danzig, Poland 2002, Interactive public art mobile installation and performance. Organised by iFIMA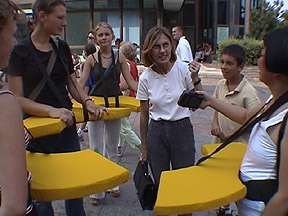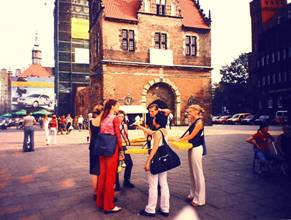 Voicing the City, interactive installation and performance in public spaces, by Amanda Heng, Ho Soon Yeen, Lee Foo Koon and Chu Yuan (Zhu Zi Yan), 2002, Danzig, Poland

2. Establishing Sustainable Links and Networks for Collaboration and Resource-sharing

i
FIMA works on establishing and developing sustained links and exchange networks between artists, writers, historians,
cultural organizers and workers for artistic and intellectual exchange and discourse; for the sharing of skills,
Collaboration, Networking, and Resource-sharing: Myanmar. An open-ended project to facilitate Myanmar artists,
writers and cultural practitioners to develop collaboration, networking and resource-sharing with counterparts and organisations
outside, for the development of contemporary art and cultural practices in Myanmar. 1997 till present.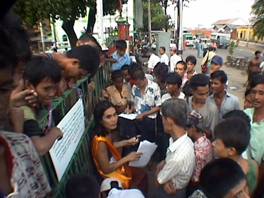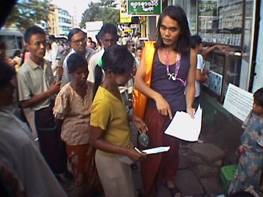 Public Act by Jay Koh, performance in public spaces, 1998, Yangon, Myanmar
MNX (Mekong Networking & Exchange), Yangon, Chiangmai, Bangkok, Phnom Penh, Nov 2003 - Jan 2004.
A network to facilitate intellectual exchange and sharing of ideas, cultural knowledge and professional methodologies
among artists, writers, art organizers and curators, and art and cultural historians of the Mekong region
Co-organised with Reyum Institute of Arts and Culture, Phnom Penh.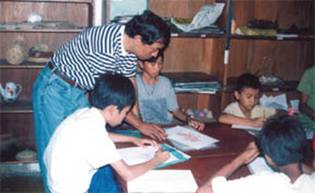 Myanmar artist Pe Nyunt Way working with children of Reyum Art School in Phnom Penh, Cambodia, as part of MNX (Mekong Networking & Exchange)
Yangon-Chiangmai-Bangkok-Phnom Penh, Nov 2003 - Jan 2004

3. Promoting and Facilitating Intercultural, and InterSectoral Dialogue and Critical Discourses

i
FIMA has been actively organizing platforms for critical exchanges and discourse in Southeast Asia and between Southeast Asia
and Europe. In addition to identifying and bringing key persons together for dialogue, in seminars and conferences, another aspect
of dialogue-making is to mediate between artists, communities, and institutions in negotiating issues that act upon our lives. We find
it necessary to extend and expand the engagement on common issues across power structures and peoples, cultures, knowledge,
histories, literacy and narratives.

Project:

International Symposium on Public Engaged Art, Singapore, The Substation, Singapore, March 2002. Papers, artists' talks,
video screenings, documentation, and exhibition presenting and deliberating on various models and modes of engagement
in engaged art projects from around the world.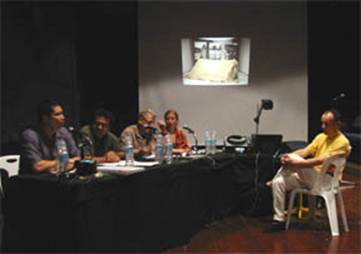 International Symposium on Public Engaged Art, March 2002, The Substation, Singapore

4. Promoting resourcefulness and self-management

i
FIMA takes on middle term projects (1 to 3 years) aimed at promoting resourcefulness, independence and self-management by arts organizations
and groups for the needs of each community. This involves a thorough understanding of the complexities of each local environment, devising solutions,
and channeling of and developing resources needed for each organizational set-up. iFIMA's contribution can range from providing tools and
organizational expertise, to devising and developing context specific training and resource-development programmes.

Project:
centre for culture and the arts in Myanmar.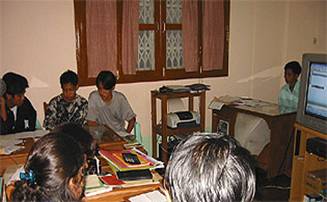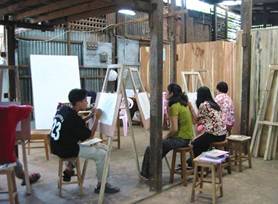 Computer and drawing classes, Young Adults Training programme at NICA, Yangon, Myanmar
5. Curating and organizing art and cultural projects that respond to specific cultural contexts
iFIMA works on curating and organizing art projects that build on and respond to the social-cultural contexts in which the project take place.

Projects:
E.T. (Exchanging Thought), Chiangmai, 1995/96. Interactive public art project in wet markets.
The

Other

X-change,
Beijing and Cologne, 1999. A cross cultural project
.
M-Spaces: Crossover or Assimilation, Singapore, 2001. Video, sound, photo and site-specific installations in shopping mall.
Performance Site: Myanmar 05, Yangon 2005. An international performance art festival
Portraying Ourselves, 2005. A public art project commissioned by Lonnstrom Museum, Rauma, Finland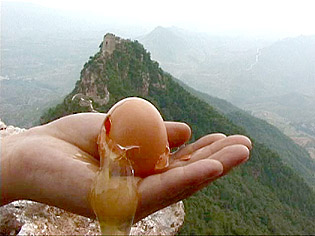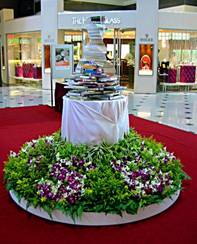 Beijing by Jay Koh, 1999, Great Wall, China in The OtherX-change M-Space: Crossover or Assimilation, Jay Koh, Singapore 2001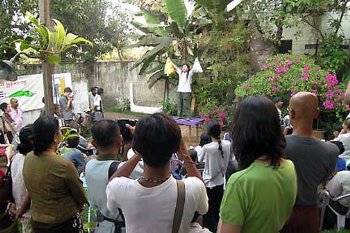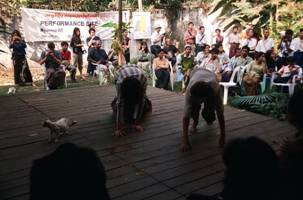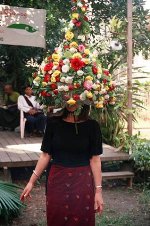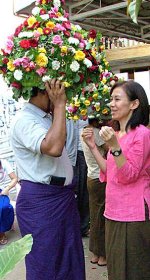 Scenes fromPerformance Site: Myanmar 05, Borders Within Without
Portraying Ourselves, Rauma, Finland, 2005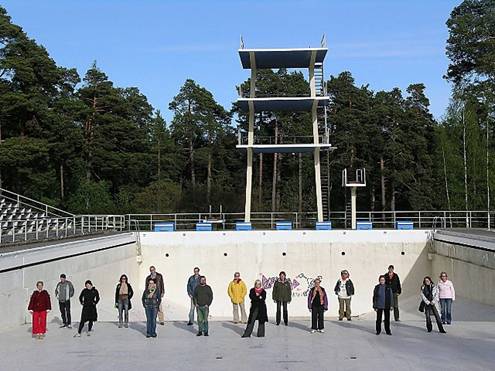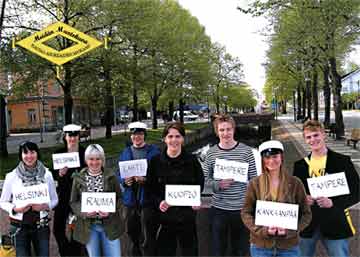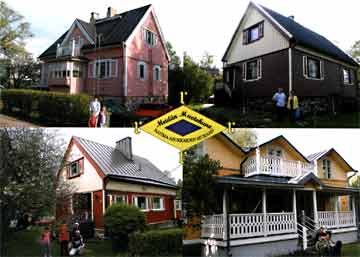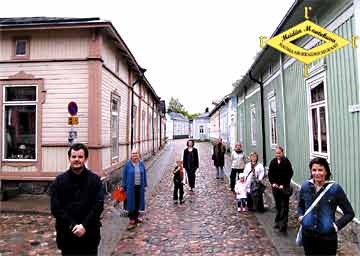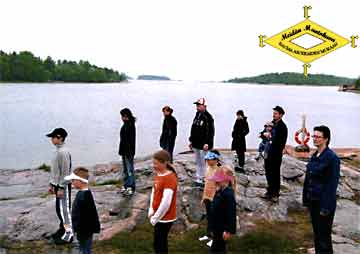 Bureau for Cultural Interconnectivity: MM, Seoul 2006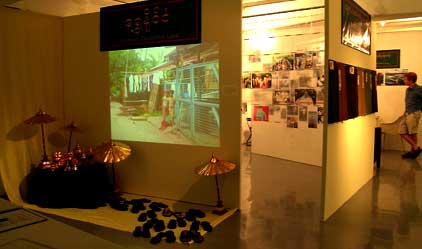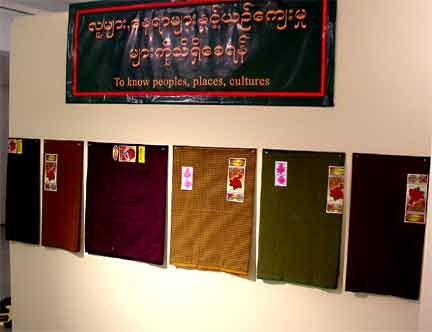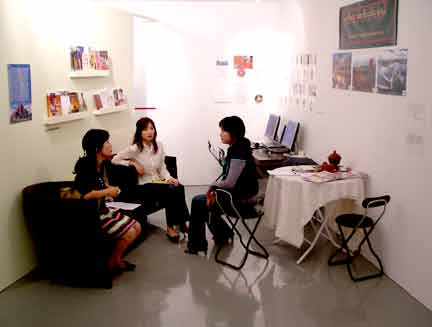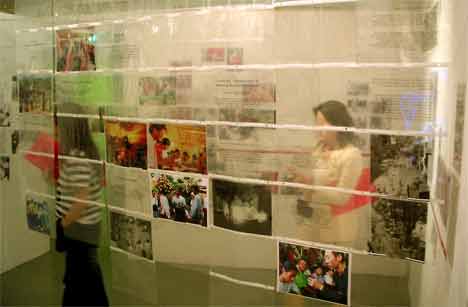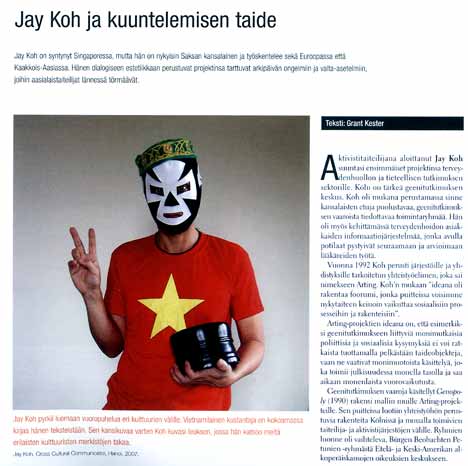 Cross Cultural Communicator, Hanoi 2007
SIGNALS from BURMA, 2007 - 2008